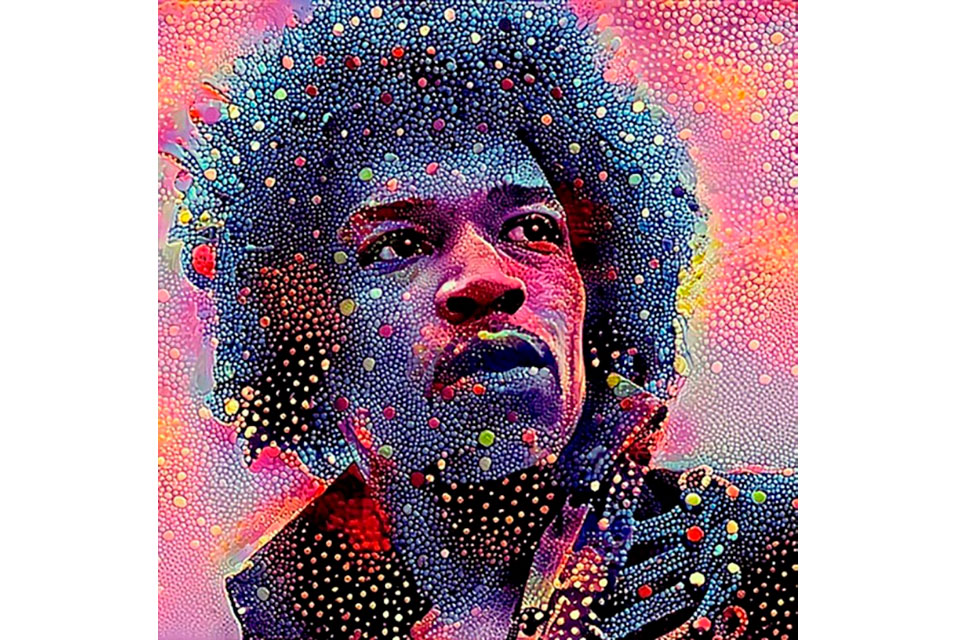 ArtDaily "The Superdot"
Retrospective of Philip Tsiaras 'Superdot' series exhibited in London for first time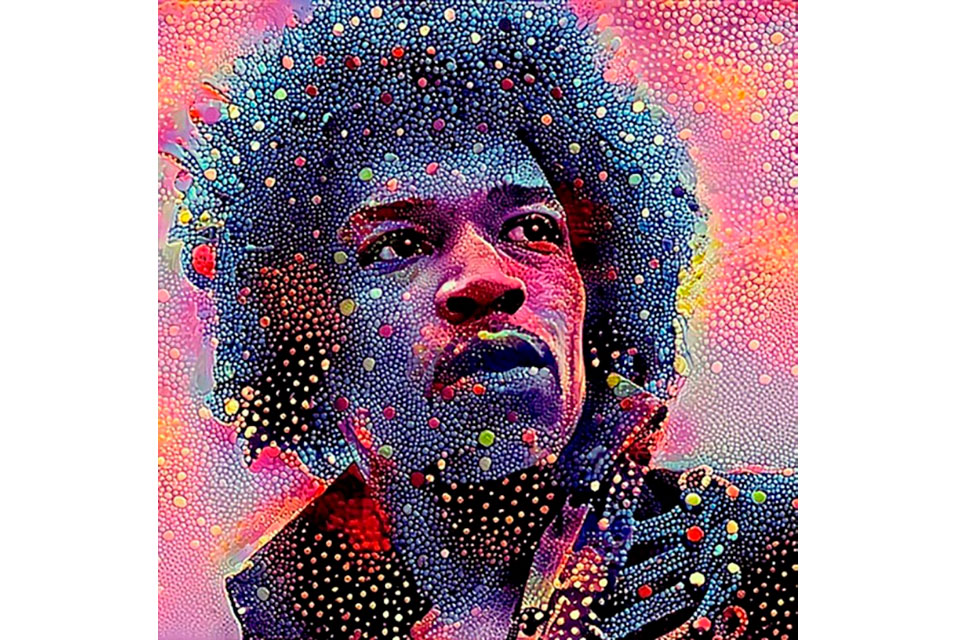 LONDON.- Varvara Roza Galleries and The Blender Gallery announce a solo exhibition of Dot Pop Portraits by Philip Tsiaras at Gallery 8 in Mayfair. The exhibition showcases portraits of British political and Royal figures such as Winston Churchill, The Queen and Prince Philip, alongside legends from popular culture including opera diva Maria Callas, exotic painters Frida Kahlo and Salvador Dali, musical icons David Bowie, Jimi Hendrix, and Prince.
Tsiaras comes full circle, as a classic black and white photographer in his early career, to realize a new painterly language in realistic hand-dotted personas. His is the world of obsessive Pointillism with a love of portraiture – The DOT– paired with popular iconography is infused with a myriad of painted multicolored coordinates, bordering on what Tsiaras calls "the scientific of sensualism", or "in archaic terms, a modern Greco-Roman mosaic."
The SUPERDOT exhibition is also a survey of Tsiaras's dot-related works covering three decades of the use of the Dot in a wide variety of his subject matter.
The retrospective's main focus is on his newest Dot portraits, alongside decades of other established bodies of dotted artworks. In particular his spiritually motivated "Circle of Life Series", his heroic, idiosyncratic Horses, and his visceral figurative works, which the Metropolitan Museum bought as early as I983.
A surprise viewing of Tsiaras' Crystal Guns, glass works which he produced in Murano over the past 10 years, have been peppered throughout the exhibition .
A full-length, new book entitled "Philip Tsiaras, THE SUPERDOT" published by Key Books will accompany the exhibition and features 200 color pages of the artist's prolific, and extraordinary career.
The exhibition runs from 16th November to 7th December.
London-based Varvara Roza Galleries and Athens-based The Blender Gallery present this retrospective of acclaimed Greek-American artist Philip Tsiaras at Gallery 8 St. James's in London's Mayfair.
The exhibition features Tsiaras's signature 'Superdot' paintings depicting iconic personalities from the fields of art, music, cinema, politics, fashion and society including; Marilyn Monroe, Andy Warhol, JFK, David Bowie, Salvador Dali, Sir Winston Churchill and Prince Philip, as well as international stars of Greek origin such as opera singer Maria Callas and shipping magnate Aristotle Onassis.
Philip Tsiaras commented: "These portraits are made of (what feels like to me) millions of dots that collectively make up the portrait, which might not appear obvious immediately to the viewer. They are very time consuming and intensive. When you paint a portrait, you are totally in the mind of the subject. In the beginning it was about power. I wanted to get into the psyche of some the most diabolical figures in history-so I started with dictators, Mao, Stalin, etc., but when I arrived at Hitler, I no longer wanted to be in his mind. In fact, the minds of mass murderers are not so interesting- I discovered. They just control people through force and dogma-there is no poetry in that.
Then I decided to go in the opposite direction and paint characters and celebrities that everyone loved. So, I considered Hollywood greats, Marilyn Monroe, financial greats, Onassis or even Steve Jobs, art greats, Picasso, Dali, Warhol, musical greats, Hendrix, Pavarotti, Prince, political greats, JFK and Jacquie, Greek greats, Maria Callas, Irene Papas, Von Karajan, Mouskouri, etc."
Philip Tsiaras is an award-winning contemporary artist of Greek origin, living and working in New York City, where his work is included in the collection of The Metropolitan Museum. During an illustrious career, he has exhibited in Greece and internationally, with more than 80 solo exhibitions to date including; la Biennale di Venice; Museum of Modern Art, Shenzhen; and the National Museum of Contemporary Art in Thessaloniki. His paintings have been described by Artforum as "…lavish and vibrant paintings of extravagant color and intricate formations."
Tsiaras's oeuvre covers a variety of art forms including painting, photography, ceramics, bronze and glass sculpting. Tsiaras's Dot technique is a unique marriage of Pop Art influences from 60s New York with art historical influences drawn from his Greek heritage.
Renowned Art Critic Donald Kuspit said of the artist: "Tsiaras is, above all, 'ancient blood in a modern organism', raised and educated in an advanced American culture; assuming that "Mediterranean" is not only a geographic connotation but also way of understanding a complicated and mutable cultural dimension."
The survey show of Tsiaras's Superdot paintings at Gallery 8 in London, provide an insight into the world of an obsessed pointillist artist who infuses his work with a knowledge of Greco-Roman art and a love of portraiture. His paintings draw inspiration not only from modern art historical movements such as 19th Century pointillism (in particular the Neo-Impressionist style of Georges Seurat) and 20th Century Pop Art (notably the screenprints of Andy Warhol which immortalised icons such as Marilyn Monroe), but also from the art history of his Greek heritage, in particular Greco-Roman decorated mosaics dating back to the 5th Century BC, which were made using black and white pebbles carefully arranged in geometric patterns to depict scenes from mythology of day to day life.
Tsiaras has constructed a process for his own signature Superdot paintings, which are populated by a series of dots which are tiny yet possess an intense power. The signature Dots of Tsiaras are carefully orchestrated in pointillist-influenced canvases to capture the essence of iconic personalities from modern and contemporary culture. Heroes and villains of modern and contemporary culture are juxtaposed, in single portraits and also in the form of diptychs depicting Maria Callas opposite Jackie Onassis (formerly Jackie Kennedy before she married the Greek Shipping Magnate Aristotle Onassis), and President Putin opposite Donald Trump, two of the most prominent anti-heroes of contemporary politics.
Tsiaras's portraits are infused with a myriad of painted, multicolored coordinates and activated dots, bordering on what he describes as "the science of sensualism", or in art-historical terms, a modern take on the Greco-Roman mosaics of antiquity. Tsiaras has come full circle, as a classic black and white photographer experimenting with portraiture in his early career, to his present incarnation of realizing a new painterly language in realistic hand-dotted personas.
As art mimics life, Philip Tsiaras has taken note. The Greek artist is known for his hand-dotted works, which he says are made up of "particle atoms.". The multi-colored portraits come to resemble a sort of modern-day Roman mosaic, each embodying the personality of the icon it represents with meticulous attention to detail.
The solo exhibition of Philip Tsiaras paintings is the 2nd instalment of a 3-part exhibition programme curated by Varvara Roza Galleries director Varvara Roza, and The Blender Gallery director Jason Theophanidis, presenting contemporary Greek artists in London during the Autumn/ Winter contemporary art and auction season.
Varvara Roza and Jason Theophanidis view London as one of the most important centres of the contemporary art world, and a global hub for fine art, which is the motivation behind showcasing a carefully curated selection of the most interesting Greek contemporary artists at Gallery 8 in Mayfair. This will be the first retrospective of Philip Tsiaras's Superdot paintings in London.
The Varvara Roza Galleries & The Blender Gallery exhibition programme was launched during Frieze Week with Manolis Anastasakos 'Mythos' (1 to 21 October), and following Philip Tsiaras 'Superdot' (14 November to 7 December), will be Ermina Avramidou and Andrew Levita (10-23 December).
https://artdaily.com/news/141247/Retrospective-of-Philip-Tsiaras–Superdot–series-exhibited-in-London-for-first-time