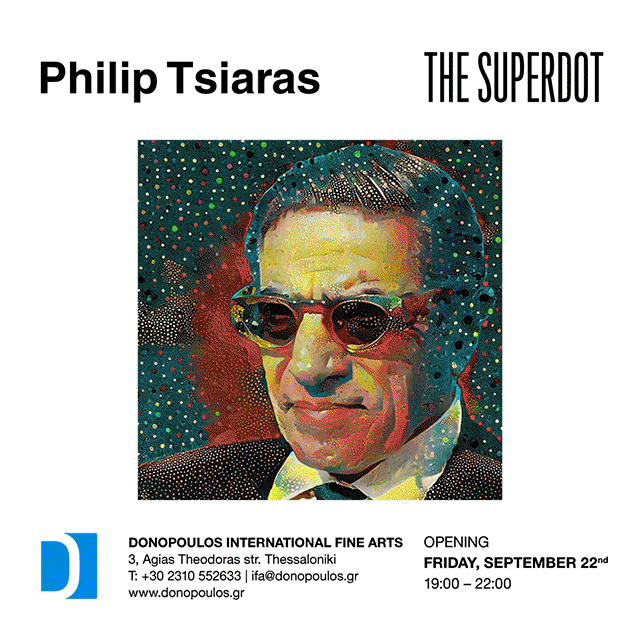 The SUPEROT in Thessaloniki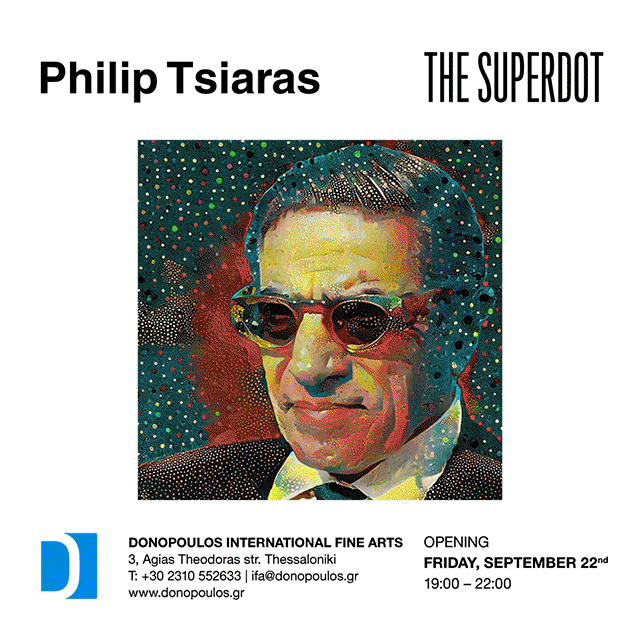 We are proud to present the return of Philip Tsiaras to Thessaloniki and the SUPERDOT, a solo exhibition featuring the latest works of this prolific international artist.
The SUPERDOT portraits are a new series by Tsiaras showcasing stylized depictions of celebrities and powerful personalities from the fields of art, music, cinema, politics, fashion and high society. This show follows recent successful exhibitions of the SUPERDOT in London, New York, Monaco and Athens, each exhibition with its own particular focus and personality.
The SUPERDOT portraits explore the world of an obsessed Pointillist artist with a love of portraiture – the hand-painted DOT—is infused into popular iconography, bordering on what Tsiaras calls "the scientific of sensualism, or in archaic terms, a modern Greco-Roman mosaic".
Tsiaras comes full circle, as a classic black and white photographer in his early career, to realize a new painterly language of hand-dotted personalities from Tyrant to Pop Diva. These paintings embrace the Warhol-ean interest in popular icons, and are fueled by a compulsive attention to particle detail, re-examining such classical figures as : Alexander the Great, Maria Callas, Pavarotti, Grace Kelly, David Bowie, Prince, Marilyn Monroe, Onassis, Jackie, Irene Papas, Mao, Mouskouri, and more.
The result is an Impressionist and Surreal implosion into the history of portraiture, and to the memory of iconic giants.
A full-length, hardbound book entitled "The SUPERDOT", published by Key Books, will accompany the exhibition. The New York-based artist will attend the opening.
Philip Tsiaras is an international artist of Greek origin who lives and works in New York City. He has led a remarkable career, starting with an early encounter in the 80's in New York City with Andy Warhol and Lucas Samaras. In his recent London exhibition, the British Press touted Tsiaras as the "Greek Warhol."
SPECIAL THANKS
Prince Albert of Monaco
The Blender Gallery
Varvara Roza Galleries
Digilect Creative Agency
Key Books
Yannis Psathas
Christos Pashalides