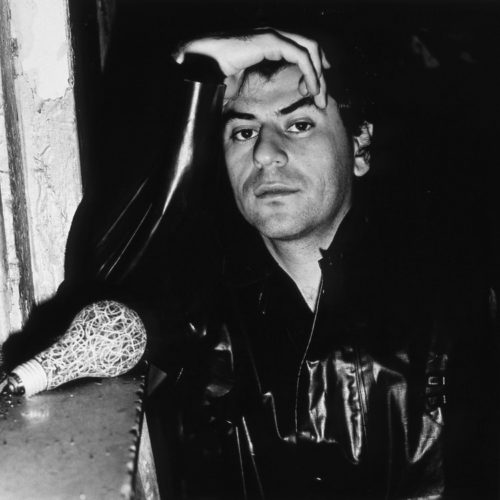 Philip Tsiaras is an international Greek artist who lives and works in New York City. Since 1974 he made more than 80 one-person exhibitions, including: Seattle Museum of Art, The National Museum of Contemporary Art, Thessaloniki, Mannheimer Kunstverien, Mannheim, Bernier Gallery, Athens, Studio Palazzoli, Milan, Shea & Beker Gallery, New York, Margulies/Taplin Gallery, Miami, Tegnerforbundet Gallery. Oslo, Museum Santa Apollonia, Venice, Gallerie Dominion,Montreal,  Swank/ The Regency-Intercontinental,Hong Kong, Newport Art Museum, R.I., Villa Reale, Monza, The Currier Museum, N.H., Spazio Cavallieri di Malta, Syracusa, Pinakotech of the Cyclades, Syros, International Contemporary Art Fair, Istanbul, Bienalle of Photography, Torino, De Novo Gallery, Sun Valley, Cento St. Benin, Aosta, Donopoulos International Fine Arts Gallery, Thessaloniki, Pinakotech of Ithaca, Museum of Contemporary Art,Crete, Museum of Photography,Thessaloniki, Stella Art Foundation, Moscow, Museum of Modern Art, Shenzhen, HG Guggenheim Gallery, New York City
Tsiaras works in a great range of media–painting, photography, glass, ceramic, and bronze. He has exhibited in the Venice Biennale three times and produced a ten foot bronze sculpture on the Grand Canal entitled "Social Climber".
Philip Tsiaras has been the recipient of many national prizes: The American Academy Awardfor Poetry, The Thomas Watson Fellowship, New York State C.A.P.S grant, two N.E.A. National Endowment Grants for Arts, nomination for the Blickle Stiftung International Photography Prize, Germany and The Generali Assicurazioni Gold Metal Award for "Civilita" Venice.
Philip Tsiaras' works are widely collected in corporate, private and important museum collections,including the Metropolitan Museum of Art. Fifteen books and catalogues are attributed to hiswork, most notably monographs published  by Electa and Mondadori books, and a book of photographs entitled, "Family Album" published by Contrasto, Rome. A recent 30 year retrospective of photography entitled Philip Tsiaras- SUPEREAL was published by the Museum of Photography Thessaloniki.
About Philip Tsiaras
"Philip Tsiaras artworks are an important advance in the surrealist tradition of 20th century art. Bretton's Manifesto suggest the way Tsiaras' works are an advanced surreality. Traditional surrealism had a morbid curiosity about pathology. In contrast, Tsiaras' surrealism transcends such morbidity. Indeed, the sense of pleasure that emanates from his work, his fantasies of the self, and of the world, seem so positively charged with healthy erotic pleasure, as to deny the power of mental pathology, and even to suggest it can be overcome. It is though Tsiaras wants to remind us, that the self and the world, however diseased, can be enjoyed."
Donald Kuspit,Critic, New York City
"Tsiaras is, above all, "ancient blood in a modern organism", raised and educated in an advanced American culture; assuming that "Mediterranean" is not only a geographic connotation but also way of understanding a complicated and mutable cultural dimension."
Angelo Pauletti, Director Municipal Director of Culture, Feltre, Italy.
"Tireless and resourceful Tsiaras processes moods and ideas through subjects such as colored vases, stiletto shoes, pistols, airplanes, horses and circles. He remains a "CULT" figure, a Surrealist whose innovative views combine the different cultures that nurtured him, and his unbridled and unconditional passion for creativity."
Maria Marangou, Director Museum of Contemporary Art, Crete
"Philip Tsiaras' pictures are a concentrate, an individual reception to the last forty years of cultural history. His images possess an intensity which link the imagination with collective experience to surpass the individual, and speak out to the vital consciousness of an entire generation…Tsiaras' art deliberately engages the dynamic fields of different cultural influences, which have shaped and continue to shape his individual reality. Out of this arise strong, willful artworks whose power have universal dimension."
Martin Stather,Director Kunstverein of Mannheim, Germany
"It seems insufficient and awkward to identify Tsiaras as a photographer only, as he is involved in so many other creative media. He doesn't walk into the studio on Monday as a painter, return on Tuesday as a photographer and come again on Wednesday as a glass sculptor. He steps into the workspace as an artist, regardless of the medium in which he works at any given moment."
Allan D. Coleman,Photography Critic tradition,The New York Times
"I first came across the work of Philip Tsiaras in an Italian foundry in 1994. "Endless Pitcher" caught my eye, a polished bronze, perforated pitcher, balancing precariously upside-down on fused industrial coils. If was a strange marriage of materials and intentions. Then came the man, the artist, and with him the horses. I remember, while visiting him in his Manhattan Seaport loft, seeing hundreds of images of galloping horses, lyric horses,running through calligraphic marks and conceptual signs. The horses seemed to vanish and reappear in a myriad of lush surfaces and eclectic forms, above all, different from any horse paintings I had seen."
Fabrice Marcollin,Director Contemporary Art Bank, Toronto, Canada
"The horse like the woman: two sensual metaphors, two beings that couple ideally in the obscure meanders of our unconscious. They run about together, in authentic territories of the fantasies of latent poets …" Tsiaras possesses them both with the energy of his paint brush: instrument of seduction, love tool, periscope that emerges from the marshes of infancy be a fairy tale or a nightmare."
Francesca Alfano Miglietti, Curator World Exhibition Association, Venice
"In Transparent Mirrors, the silvered installation is designed to conceal the danger of Tsiaras' lethal sculptures and glass, which disguise the blow aimed at the visitor' s heart. The visitor who does not anticipate this experience, will find himself haunted and hunted by the works of art, which are mutating, luminous and darkly fascinating."
Maurizio Sciaccaluga, Curator Venice Biennale 2003
"In Tsiaras there is the impulse to inform everything that the artist touches. So much so that the subjects and their symbols ceased to be the main focus. What does become increasingly evident, is the power and which examines emerging passions like islands underwater of a recaptured maturity in the ocean's grave …One's very own existence makes an art expression." "You search inwards, in your memories of creative comparisons to that vital force. You search for the energy of Eros, the power of life, and you find it like in a story of Roland Barthes, you find it, scandalous and innocent, transgressive and immodest, in the thoughts of Philip Tsiaras."
Gianni Monduzzi, Author Bologna, Italy
"Philip Tsiaras is neither an exile nor refugee. He loves the magnificence of the American surface, the multi- ethnic contamination, the exaggeration of goods as well as the radicality of everyday existence, which can painting and the methodology of the image making process that superimposes itself, totally naturally, on anything the artist does. This fluidity is what Philip Tsiaras is."
Marco Meneguzzo, Art Historian Accademia di Belle Arte di Brera, Milano.